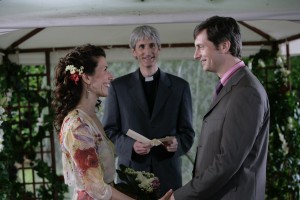 The Chase
George Williams and his daughter Anna run Chevin Chase Veterinary Practice in the market town of Oxley on the outskirts of Leeds. Anna's hands are full with three children, another on the way, a struggling practice and a wedding to organise. Sparks fly when her sister Sarah, complete with designer lifestyle, swans up from London for the first time in years with a secret that could tear their family apart.
Having run his veterinary practice for over forty years, George is cajoled by his new wife into handing the reins over to both his daughters, so they'll be free to emigrate to warmer climes. The two sisters are suddenly thrown together to try and make a go of the flailing business, leaving it up to the combination of their commitment, passion and strength to see them through.
Year
2006 - 2007
Episodes
- Series 1 - 8 x 60 minute episodes
- Series 2 - 12 x 60 minute episodes
Channel
BBC1
Written by
Kay Mellor
Overflowing with fun and laughter, infidelity and deception, acceptance and friendship – not to mention cows, cats, dogs and snakes – The Chase is, at it's heart, about families. As difficult and dysfunctional as they can get, it's always good to know you've got one to belong to.
Created by Kay Mellor, the series stars and was co-written by Gaynor Faye. It offers a unique insight into Britain's two most popular pastimes – animal welfare and people watching. The complex nature of veterinary surgery is matched only by the complicated personal lives of our vets.
---
Nichola Stevens actually delivered a lamb live on camera during the second series, it wasn't all TV magic – it was the real thing!