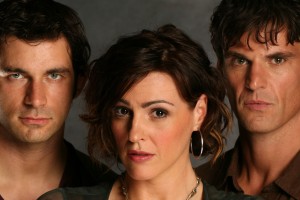 Strictly Confidential
Linda Nelson is a former police officer turned sex therapist in a vibrant city practice alongside her brother-in-law, Greg. Despite keeping up appearances, behind closed doors Linda has a problem of her own – she and her husband Richard are desperate for the child they can't conceive. As Greg has two healthy children and another on the way, he seems the obvious candidate to donate his sperm.
Whilst struggling with her turbulent private life, Linda is dragged into the highs and lows of another life – that of swinging and breath play. Her ex-lover, Angie, now a Detective Inspector, is investigating the death of a young woman. From the crime scene, it appears she was experimenting with auto-erotic asphyxiation. Linda is asked to the scene to offer her friend a helping hand, but will she find herself more involved in the investigation than she had anticipated?
With Strictly Confidential, Kay Mellor explores the murky area between love and friendship, fun and fetish, and the oldest riddle of all, sex and death. Starring Suranne Jones, Tristan Gemmill, Cristian Solimeno, Kate Isitt, Eva Pope and Nikki Sanderson, this pacy drama exposes both the comedy and the horror of human relationships, and leaves the audience questioning their own lives. Which parts of our intimate relations would we feel comfortable to reveal, and which parts should really be kept strictly confidential?
Year
2006
Episodes
6 x 60 minute episodes
Channel
ITV1
Written by
Kay Mellor & Kate O'Riordan
Directed by
Keith Boak & Roberto Bangura
Produced by
Yvonne Francas