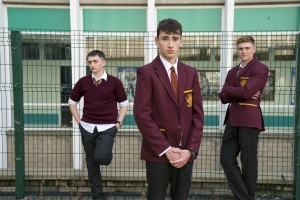 My Left Nut
"In its confident blend of disparate elements, My Left Nut looks like the seminal stirrings of a whole new ballgame."
Teenager Mick discovers a swelling on his testicle and tries to ignore it. He can't tell his dad about it – he died 7 years ago. He can't tell his mum, as she's got a million other things on her plate. He can't tell his schoolmates either – after all, there's an upside to rumours flying around school about the bulge in your trousers…
After finally confiding in his mother, he plucks up the courage to go to the doctor – all whilst still trying to keep his swollen testicle from his friends Tommy and Conor, and his prospective girlfriend Rachael.
Year
2020
Episodes
3 x 30 minute episodes
Channel
BBC3
Written by
Michael Patrick & Oisin Kearney
Directed by
Paul Gay
Produced by
Sian Palfrey
" Guaranteed to make you laugh and cry in equal measure. "

The i
Based on the award-winning stage play and inspired by a true story, My Left Nut is a coming of age comedy drama about friendship, family, grief and testicles. Written by Michael Patrick and Oisín Kearney, the three part comedy drama was shot in Belfast and stars Nathan Quinn O'Rawe and Sinead Keenan.
---
Michael Patrick – on whom the series is based – played a policeman in one of the episodes.
Our awards & nominations
Best Drama
2020 Royal Television Society Northern Ireland Awards

Best Drama
2021 Royal Television Society Yorkshire Awards

Best Writers (Michael Patrick & Oisín Kearney)
2021 Royal Television Society Yorkshire Awards

Best Actor (Nathan Quinn O'Rawe)
2021 Royal Television Society Yorkshire Awards