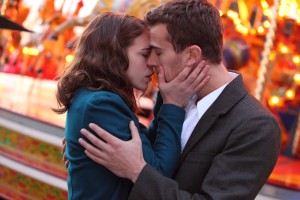 A Passionate
Woman
"Part Alan Bennett, part Victoria Wood, it's a script which sings with perfect one-liners, heartbreaking confessions and painful realisations."
A Passionate Woman is a two part period drama set in Leeds in the 1950s and 1980s, based on the true story of a housewife and mother whose life is turned upside down by a handsome Polish man she meets at her local dance hall. Starring Sue Johnston, Billie Piper, Theo James and Alun Armstrong, it tells the story of Betty Stevenson as she lives out her life in a tenement block in one of the poorest parts of the city with her husband Donald and their young son Mark.
When Betty embarks on an affair with her enigmatic Polish neighbour, Craze, their whirlwind romance turns out to be the happiest weeks of her life. His untimely death at the hands of his wife sends Betty into a depression she tries to cope with by devoting her life to looking after her son. Thirty years later, her world falls apart as Mark and his fiancé Jo reveal they plan to emigrate to Australia, leaving it to her husband Donald to try and persuade her that life can still be full of passion, adventure and excitement.
Year
2010
Episodes
2 x 90 minute episodes
Channel
BBC One
Written by
Kay Mellor
Directed by
Antonia Bird & Kay Mellor
Produced by
Yvonne Francas
" It's a heartfelt piece, the drama grips! "

Mail on Sunday
Kay was inspired to write the story after her own mother confessed to having an affair with a Polish neighbour in the 1950. Just like the story, the unnamed Pole was tragically killed, ending her mother's affair which she'd kept secret for 30 years before revealing all.
Originally written as a play performed at the West Yorkshire Playhouse in 1992 before moving on to the West End, the television adaptation includes scenes filmed at notable Leeds locations including Roundhay Park, Hyde Terrace, Hyde Park Cinema, Blenheim Square and Kirkgate Market, with additional filming at Bradford City Hall, St Luke's Hospital, and King's Hall and Winter Gardens in Bradford. A Passionate Woman will be returning to the stage this spring at Leeds Playhouse.
---
For the 1950s scenes featuring the character Douglas, Alun Armstrong's own son played his younger self.