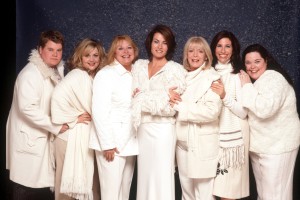 Fat Friends
"Drama like this doesn't just look at the realities of modern life. It grabs it by the lapels, gives it a damn good shaking and dusts it down."
Meet Kelly, Betty, Lauren, Alan, Val and Jamie. They're all shapes and sizes and come from different walks of life, but there's one thing that unites them all – a deep longing to be thin. Each week, the group meets at their local slimming club – run by the formidable Carol – for the all-important weigh-in.
From the curvaceous Kelly who wants to fit into her wedding dress, to the overeater Jamie who's bullied at school for being overweight, each member has their own reasons for taking up the diet, then breaking it, then dieting again. Will it be euphoria at the loss of a couple of pounds, or desperation when the scales reveal that elusive target weight is slipping further away?
The show Gavin and Stacey was dreamed up on the set of Fat Friends - James Cordon and Ruth Jones came up with the idea during the fourth series and started writing together
Year
2000-2005
Episodes
Series 1: 6 x 60 min ep
Series 2: 7 x 60 min ep
Series 3: 1 x 90 min ep, 5 x 60 min ep
Series 4: 1 x 90 min ep, 5 x 60 min ep
Channel
ITV1
Written by
Kay Mellor, Gaynor Mellor,
Debbie Oats & Jayne Daniels
Directed by
David Wheatley, Audrey Cooke, Tania Diez,
Dan Zeff, John Deert John Anderson
& Lance Kneeshaw
" No one writes better TV parts for women. She is great at powder-room gossip "

Daily Mirror
The multi-award-winning Fat Friends is one of Kay Mellor's biggest and best known comedy dramas. Consisting of 25 episodes over four series, it's an exploration of our collective preoccupation with weight, and stars the likes of Alison Steadman, Gaynor Faye, Ruth Jones, James Corden and Lisa Riley.
Set in the Headingley district of Leeds, the show looks at the world of weight loss with pathos and humour, ultimately questioning what drives people to make the choices they do. It's a window into a world of people obsessed with their bodies, inviting you to share their laughter and pain as it addresses the absurdities of dieting in our modern age.
---
Kay first spotted James Cordon in a Tango advert and told her casting director to bring him in to audition. The rest, as they say, is history!
Our awards & nominations
British Academy Television Award
Best Actress for Alison Steadman – Nominated
Best Drama Series for Kay Mellor & Greg Brenman & David Reynolds – Nominated
Royal Television Society Programme Awards
On-Screen Network Newcomer for James Corden – Nominated
TV Quick Awards
Best New Drama – Won
Television and Radio Industries Club Awards
TV Drama Programme – Won