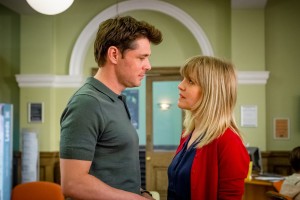 Love, Lies & Records
"Who knew registrars were so exciting?"
Love, Lies & Records follows registrar Kate Dickinson as she tries to juggle her personal life with the daily dramas of births, marriages and deaths at the local registry office. After a dream promotion to the top job of superintendent, she finds herself increasingly torn by the endless responsibilities of being a modern working mother – her daughter's hiding suspicious messages, her son hates her because she's bought him the wrong trainers and now her stepson's turned up unannounced.
As Kate tries to hold her work life and relationship together, things go from complicated to impossible when a disgruntled colleague threatens to expose a secret from her past. With everything she's worked for in jeopardy, Kate's dream promotion quickly turns into a nightmare and she's horrified to realise that it's not just her job that's on the line.
Year
2017
Episodes
6 x 60 minute episodes
Channel
BBC1
Written by
Kay Mellor
Directed by
Dominic Leclerc & Cilla Ware
Produced by
Josh Dynevor & Yvonne Francas
" This drama does emotion very well. "

Radio Times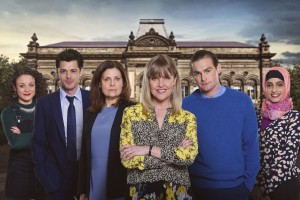 Written, created and directed by Kay Mellor, this six part drama series stars Ashley Jenson,(Catastrophe, Ugly Betty, Extras) Adrian Bower (Granchester, The Last Kingdom), Kenny Doughty (Vera, Stella), Rebecca Front (Doctor Thorne, War & Peace, Humans) and Mark Stanley (Dark River, Dickensian).
---
The registry office was actually a combination of three locations – the exterior of Leeds City Museum, the beautiful interior of Dewsbury Town Hall, and the registrar's offices themselves were built as a set in a warehouse in Armley, Leeds.