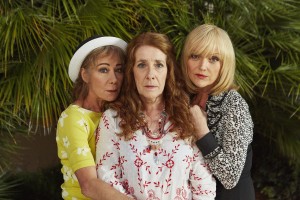 Girlfriends
"I enjoyed it so much I immediately watched episode two."
Linda, Gail and Sue each pushing 60 and struggling to cope with what life has to throw at them. After the dramatic and sudden death of Linda's husband Micky, the three childhood friends find themselves back together for the first time in years – each with their own set of problems, including a looming divorce, the loss of a high-powered job through age discrimination, and the endless responsibilities of grandchildren and ageing mothers.
When widowed Linda tries to come to terms with being on her own, she and her two girlfriends are horrified to learn this could be the least of her worries. As questions over the circumstances of Micky's death start to be raised, Sue and Gail quickly jump to the defence of their lifelong friend. But when accusations reveal deep secrets, deception and doubts, the girlfriends' friendship is really put to the test.
Year
2018
Episodes
6 x 60 minute episodes
Channel
ITV1
Written by
Kay Mellor
Directed by
Kay Mellor & Dominic Leclerc
Producer
Josh Dynevor
" Real and glorious and fun "

The Guardian
Girlfriends is a contemporary story about friends, family and the responsibilities that come with being a modern woman of a certain age. It also paints a picture of how true friendship can remain strong over time, no matter how many years have passed. Written, created and directed by Kay Mellor, it stars Phyllis Logan, Miranda Richardson and Zoë Wanamaker.
---
The cruise scenes were shot on a real cruise ship, which was also used to transport the production crew to Malta where the "Spanish" scenes were shot.
National Television Awards 2019
Category: "New Drama" (Nominee)