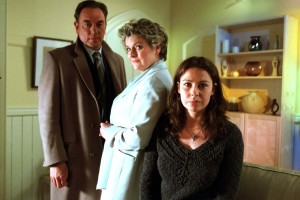 Between
the Sheets
"Funny and engaging stuff from a talented storyteller who creates rounded, believable characters."
Between the Sheets looks at the romantic and sexual challenges of several different couples whose lives are interlinked in a complex web of intrigue. Alona Cunningham works as a sex therapist yet finds her boyfriend, Paul, unenthusiastic in the bedroom. What's more, Paul - who works as a probation officer - has been accused of having sex with one of his fifteen year old clients.
Elsewhere, Hazel walks out on her husband Peter after a string of affairs, with the couple calling on Alona's professional services to overcome their difficulties and uncover yet more secrets. Meanwhile their son Simon is encouraged by his mother to reconcile with his ex after Hazel discovers she's pregnant, but Simon is reluctant, having fallen for one his father's nightclub hostesses.
Year
2003
Episodes
6 x 60 min ep
Channel
ITV1
Written by
Kay Mellor
" From a talented storyteller who can create rounded, believable characters. "

The Guardian
Written and created by Kay Mellor, this six part miniseries is a no holds barred, frank exploration of what makes people function sexually in the twenty-first century. In a society saturated with sexual imagery and advice on how to improve your sex life, it features infidelities, lust, fantasies and sexual awakenings, taking viewers under the covers to explore what's really going on in our bedrooms.
Starring Brenda Blethyn, Alun Armstrong and Julie Graham, the show attempts to understand what makes us function sexually; to uncover why we're attracted to people we shouldn't be, and what makes one person turn us on when another leaves us cold. Provocative and emotional, the series pushes boundaries and goes where others fear to tread.